Scent sends a powerful message
The aroma of warm Cinnabon buns wafting through the mall. A hotel lobby scented with tropical flowers. A hint of leather in the air at a men's clothing store. At various points in your life — probably without even knowing it — you've been the target of scent marketing.
I remember stepping into Las Vegas casinos the first time I visited the Strip. Each one had a signature scent, whether it was vanilla and rose (MGM Grand) or lemon and mandarin (Caesar's Palace). At the time, I just thought everything smelled amazing. But I realize now that it was scent marketing, and it worked. I revisit certain casinos because I associate their smells with good memories.
Sensory marketing makes us laugh, cry, and buy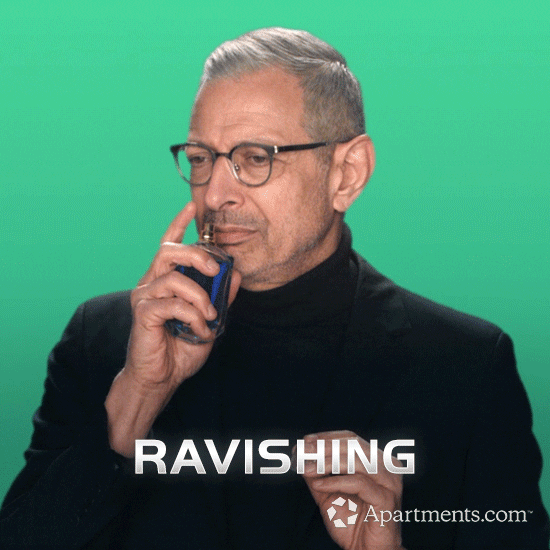 Credit source: giphy.com
Scent marketing is a type of sensory marketing, which reaches customers by sight, sound, touch, smell, or taste. So why are companies trying to get all up in our noses? Because sensory marketing hits us on an emotional level. Emotion is what drives buying behavior, whether it's purchasing a car or staying loyal to a makeup brand.
Research shows that 75% of our emotions are due to smell. We are 100 times more likely to remember something we smell than something we see, hear, or touch. That's a huge opportunity to tap into customers' emotions using scent.
Like the words on your website, the logo on your door, and the attitude of your employees, scent communicates something to your audience. And like every message, it needs a strategy.
What is scent marketing? A quick science lesson
I promise, there's no quiz at the end. But to understand why scent marketing works, we have to get a little brainy. The olfactory bulb is part of the limbic system in the brain, which processes memories and emotions. That's why smells can affect everything from concentration to mood.
Smell is the most developed sense in a child up until about the age of 10, when sight takes over. Many people notice that their strongest smell associations are from this part of childhood, such as grandma's perfume or an elementary school classroom (I wanted to say the smell of chalk, but that would be dating myself).
The relationship between scent science and marketing accidentally originated in the 1970s. Las Vegas casinos started using aroma diffusers, but the goal wasn't to increase revenues. It was to mask the smell of cigarette smoke, but it also made people stay longer and gamble more.
In the 90s, neurologist Dr. Alan Hirsch started researching the impact of smells on buying behavior. The founder of the Smell and Taste Treatment and Research Foundation in Chicago discovered that people were 84% more likely to buy a pair of Nike shoes in a floral-scented room. Next, he found that people put 45% more into slot machines when the casino smelled pleasant. As retailers got wind of this, a new type of marketing took off.
Other reasons why scent marketing makes sense
Now we know that people spend more when a store or casino smells good. Here are some additional advantages for your business:
Improved brand awareness and loyalty: Creating positive memory associations with scents makes people remember you.
Heightened brand perception: Your brand may be seen as more luxurious, exciting, or relaxing based on the fragrance you use.
Better reception: It's not usually apparent to customers that scent is a marketing message. This enables you to break through the noise of other advertising like online ads or TV commercials.
Smell is a potent wizard that transports you across thousands of miles and all the years you have lived.
— Helen Keller
How to create a scent marketing message strategy
Picking the best aromas and approaches for your brand will ensure your sensory marketing strategy doesn't stink. (Note: If you sell baked goods or coffee, you can skip to the conclusion of the article, because this part will be easy for you).
Here are three ways to master scent marketing:
1. Figure out the message you want to send
Before you start spritzing your space, ask yourself what emotion you want your customers to feel. For instance, nobody likes going to the dentist (Sorry, Dr. Dowiatt). For many people, it's a major source of stress. Quite a few dentists now infuse their offices with lavender as part of their health care marketing strategy. Why? Because it significantly reduces patient anxiety levels and appointment cancellations. Here are a few examples of how scent can be a message strategy.
| If you want to communicate… | Consider… |
| --- | --- |
| Safety, relaxation | Lavender, cinnamon, basil, or fresh cotton |
| Excitement, energy | Peppermint, rosemary, coffee, or citrus |
| Luxury, confidence | Leather, cedar, dark chocolate, or sea air |
| Sensuality, vibrancy | Amber, ginger, black licorice, or sandalwood |
Going back to your brand positioning statement can give you some olfactory insights. Explore who your target audience is and why your brand is unique. Don't have a brand positioning statement? Don't sweat it; we can help with that.

2. Decide how to deliver your message
Once you get a feel for what will appeal to your audience, pick an approach:
Aroma billboards: In-your-face smells, such as the Cinnabon example in the intro.
Signature scents: Unique smells associated with a particular company. For example, Singapore Airlines uses a proprietary fragrance called Stefan Floridian Waters in cabins and on hot towels.
Thematic smells: A subtle approach to creating a mood, like Bloomingdale's use of baby powder in the newborn-clothing section.
3. Don't hesitate to hire a pro
There's a lot at stake when coming up with a scent marketing strategy. Fortunately, you don't have to do it alone. There are professional scent marketers out there who can help you choose the perfect fragrance based on your target audience and brand personality. Some of these companies even specialize in a specific industry, such as hotels or offices.
No matter which of these steps you follow, remember that you can always make changes. Testing and tweaking based on data and customer feedback are at the heart of marketing success!
Start engaging the senses
Combining research and the right odorants is the formula for a great scent marketing plan. Whether you're choosing a fragrance, picking music for your advertisement, or creating a brand positioning statement, you need a solid message strategy. I'm going to #KeepItReal and admit that Counterpart isn't in the business of selling smells. However, if you need help communicating and connecting with your customers in other ways, we're here.