There's an overlooked best practice in survey design: writing an introduction that encourages participation. The key is to make the introduction about the participant, not the survey. Following is a before-and-after example.
Low survey response rate: Every researcher's biggest fear.
Strong, convincing conclusions depend on strong, convincing evidence (i.e., the quantity and quality of your data). But you know this. That's why you spend hours crafting survey questions that will get you the info you need to make your project grand, not bland. But here's the deal. It can be a royal pain in the data points to get people to participate — even if your questions are flawless. No participation = major frustration.
So what are the reasons for low response rates in surveys?
The usual culprits go a little something like this.
But there's one reason that nobody talks about: a rotten introduction.
Survey introduction best practice: Give your intro a hero.
One of the best ways to grab your target audience's attention and get them to click 'n' submit is to make your intro all about them.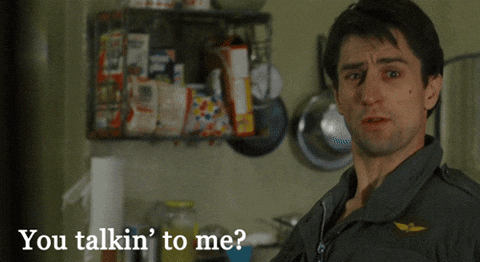 Credit source: giphy.com
OK, not entirely… You do need to provide some context and intent. But be crafty about it. Tap into that little narcissist in us all. You can do it by shifting from information mode to persuasive mode. A strategy we'll call the Pleasure Second Person Principle.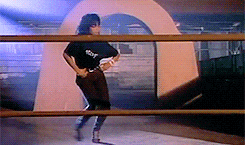 Credit source: giphy.com
How to write a survey introduction: An example.
Here's a real-life example. (All names have been changed to protect the innocent. And by innocent, I mean me. I don't want to get fired for leaking proprietary stuff.)
The situation: Joeytown Independent School District wants to better understand how their schools are viewed by people in and around their area. What's their reputation? Or in real speak: Why in the heck would somebody choose to enroll a kid in another school over one of theirs?
As part of their research, they planned to interview a finite number of participants and needed a screening questionnaire to help select people who fit the criteria they were looking for (e.g., had students currently enrolled or enrolled in the past).
So, we wrote a screening questionnaire to help them kick off their research. Let's use that intro as an example of what to do — and what not to do.
Suppose this was our first crack at it:
 A'ight… OK…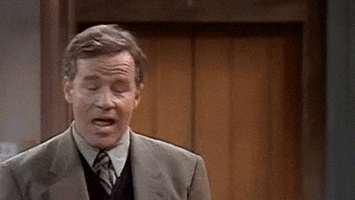 Credit source: giphy.com
That says exactly what's going down. It's clear, conversational, lighthearted, accurate, and explanatory without being too long. Check ✓. I mean look, somebody might read that and decide to fill it out. If they have nothing better to do. Like laundry.
Here's where it falls short:
The tone is playful, not too daunting. But this is all about the school district's needs, not the reader's needs. You need to pique their interest from the get-go (like in the first headline) by making it about them.
Sidebar: My high school mascot was a Kangaroo. I kid you not.
Here again, make the reader the subject…What's in it for them?  No "we."
This is a screening questionnaire, so clearly we don't want to promise they'll get to participate. But "if" and "could" are so close, and this just feels weak. Take a more confident tone.
This ends flat because it's focused on the work to be done rather than the feel-good benefit, the payoff for the participant. Try to always end on an upbeat note, a smile-y feeling, a reinforcement of the benefit, reason why, etc.
Now here's a revision with our Second Person Principle twist:
Still fun, lighthearted tone. But now, the reader is the subject.
You're encouraging here, positioning their action as an opportunity for them.
Give 'em a feel-good benefit.
You're still not promising anything, but it's more powerful than the "if" and "could" version above. Also note that by swapping "contacted" for "selected," you add a touch of "Gee, you're special." They're one of a lucky few who have the honor of helping you.
As a reader, I now feel needed. Invested. This is worth my time. I mean, damn. I can't let the kids down. I ain't goin' out like that, bruh… #Roos4life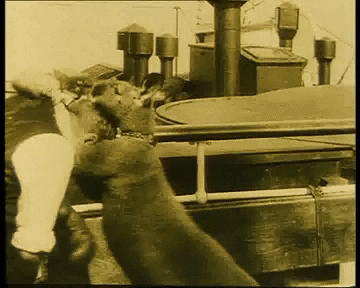 Credit source: giphy.com
By the way, the example above applies to research in education. But the hero intro philosophy works for other industries, too. It's the approach we take, and it works like a charm. Check out some of our health care, high-tech, and supply-chain case studies.
Write a better survey introduction: Some closing thoughts about your opening lines.
You're doing a survey or questionnaire for a reason, and those questions ain't gonna answer themselves. I don't care what Ray Kinsella said. Just because you build it does not mean he (or she or they) will come. Remember that your introduction is more than an introduction. It's message strategy. It should simultaneously inform your reader and position them as an integral actor in your research and survey goals. It should inspire them to stop what they're doing and take time to make a difference. So show your intro some love. It's just as important as the questions you ask.
Know who always wants to answer your questions? We do. Let's talk about how we can help you write and promote your next survey.