Being a doctor in the misinformation age is not easy. And yet, patient behavior is your guide. Here are three keys to successfully marketing your medical practice: SEO, ratings/reviews, and location information.
A doctor's competition online: Health experts that aren't health experts
"I'm not a doctor, but I play one on TV."
It's a famous advertising trope that originated in a cough syrup commercial from the '80s.
If we were to update it for today, it might be more like, "I'm not a doctor, but I play one online."
And who's playing one? Actually, who isn't?
Open just about any web browser on any given day, and you'll see headlines about the latest health trends.
Trends. Mmm. Probably not a word featured in the glossary of Grey's Anatomy. The source of these trends is even more questionable.
You know that actress who's in that movie with a talking dog? She has a totally doable wellness plan you should follow. Click to see it!
Or maybe it's that blogger and social media influencer who knows exactly what you should be eating and how much you should be exercising, because she looks good in yoga pants. She has a new post today!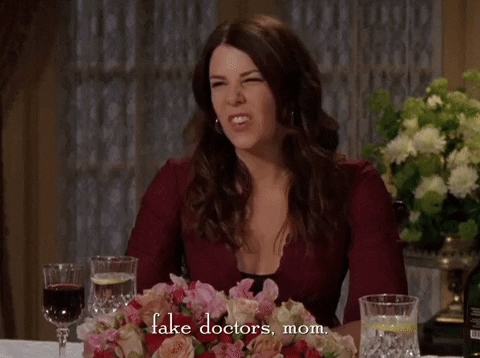 Credit source: giphy.com
It could also be the guy who has all the answers to questions posted on the internet via Quora and similar sites, no matter the topic. That dude is an expert on everything and writes with such conviction—all caps and multiple exclamation points!!! His medical advice must be sound.
Or it might be the guy with the YouTube videos who knows what's really going on and wants to tell you the truth about medicine. I mean, his videos have like 4,000 views already.
Dangers of self-diagnosis: "OMG, we're all gonna die"
When I've experienced a strange ache or pain, or noticed something different about my body, or I'm just not feeling quite right, I try not to overreact. You know, at first. It's probably nothing; or if it's something, there's most likely a simple home remedy or over-the-counter product that'll fix it.
It usually takes less than 10 minutes of searching and reading for me to become a knowledgeable medical professional who now realizes that my little ache is a sign of the worst possible scenario. I should probably figure out who is going to take care of my dog when I'm gone—most likely just days from now.
As I mull over the prospect of calling my mother with the news, it finally occurs to me that it might be worth talking to an actual doctor first.
If they're searching their symptoms anyway, let them find you.
I don't know if everyone follows this exact journey through the internet, but the fact is that 80% of patients look online for health information. It is the third most popular web-based pursuit.
80% of patients look online for health information.
To be fair, Dr. Google is efficient, delivering 4 bazillion answers in less than a second that relate to some, if not all, of your very precise and informed search terms.
But how do I evaluate what has been delivered to me? It would be so much better if the results featured individuals with meaningful letters after their names.
If you have proper letters after your name and a medical practice to promote, there are three other letters you really need to add to your practice: SEO. It's how you can reach patients before celebrities, gurus, and conspiracy theorists do.
SEO is indicated for successful health care marketing
SEO stands for search engine optimization. It's a very Silicon Valley way of saying that the words—or keywords—you use on your website can actually impact where you show up in search results. It's important to consider what keywords a patient is likely to type into a search engine, as well as what you want to be known for, so that you appear in search results for the patients you want to attract.
Consider what keywords a patient is likely to type into a search engine … so that you appear in search results for the patients you want to attract.
So what does that look like for patients and for your practice? Let's say you're a chiropractor, and I've just hurt my back. If you have a strong SEO strategy in place, and I type "back pain" into the search bar, you've increased the probability that you'll appear in my results, on the first page near the top. Because let's face it, you know I'm not making it past the first page.
You'll get my attention and help me avoid clicking on the article about the as-seen-on-TV inversion device. It's that thing for your home that encourages you to help your back pain by hanging upside down like Batman. Yeah, let's not go there.
An SEO analysis will show you the keywords you might have the opportunity to rank for, so you can use them on your website. There could be simple ways to improve your content to easily rank for a series of specific search terms. For example, if you treat the majority of your patients for the same five conditions, you'll want to rank for a Google search of those terms in your local market.
SEO is essential to your message strategy, and message strategy is the foundation for marketing your medical practice. To do SEO right, you'll want to sign up for tools like Google Keyword Planner, Google Analytics, Ahrefs, Moz, and SEMrush. (Of course, it's much easier to have a counterpart handle all that.)
Doctor ratings and reviews matter, so give your rep a check-up
There's another way you can make yourself attractive to me (and my mother) besides being a doctor. It has to do with your online reputation.
Let's face it: Not only is everyone on the internet an expert, they're also a critic. The chance to give a review, to click on a row of stars or a smiley or frowny face, is simply too great a temptation to resist. I must report on every single one of my experiences. And I want to hear about the experiences of others, so that I may judge the caliber of your product or service based on the opinion of someone known as MustLoveDogs98.
Nevertheless, whether it's a restaurant review on Yelp, a product review on Amazon, or, yes, a review of someone who will be responsible for my medical care, I'm reading what people have to say, just like everyone else.
It's important that you know what people are saying about you and that you take part in the conversation. First, ask your patients to give you reviews on Facebook, Vitals, Health Grades, and other similar sites. These free sites can help you to accumulate positive reviews that help tell your brand story. Then, monitor these reviews for real-time patient feedback. Address negative reviews publicly when possible. Finally, put the feedback to good use: You can have a staff member pull reviews monthly to give you and your team an idea of your strengths and weaknesses as a practice.
Ask your patients to give you reviews … Then, monitor these reviews for real-time patient feedback. Address negative reviews publicly when possible.
Want an insider tip? Many popular website platforms, like WordPress, have plug-ins available for you to easily publish a stream of reviews on your own website.
How to improve the patient experience? "Doctor near me"
Finally, as a person of the internet age, I may have time to binge-watch 8 hours of my fave Netflix show, but I am actually a very busy person who cannot be inconvenienced in any way when it comes to my health care.
Like me, patients want hassle-free experiences, especially when it comes to specialized care that requires repeat visits (wound care, diabetic foot treatments, physical therapy, etc.). Proximity to home or work is one of the biggest deciding factors when it comes to choosing a health care provider, along with insurance coverage and doctor reviews.
It is imperative that it's easy for a patient on your website to find where you are located. It could mean linking to your location information from the primary navigation, giving it a place on the homepage, adding it to your contact or appointment page, or all of the above. (A good example of this is Mid-South Foot & Ankle Specialists, a podiatry practice in Memphis, Tennessee.)
Also, be sure to go beyond your website and make sure the information listed on various web directories (like Google My Business) is clear, accurate, and current.
It is imperative that it's easy for a patient to find where you are located on your website.
We all need more marketing for doctors
On behalf of everyone who spends time online, please help us find a real doctor—a family practice, a medical spa, an optometrist, an ob-gyn, home health, senior care. Marketing your health care practice is definitely easier than brain surgery, and the right strategy can help you steal patients, like me, from Dr. Google.
Need assistance? Counterpart is schooled in the health care industry and can help you with every aspect of digital marketing. Just hit us up. No need to go Googling.